Scrum at the back: Roland Clarke (a House prefect), NK, NK, Tim Myhill, Richard Vincent (just behind 'Charlie' Parker), Philip Bacon?, Michael Rice (just behind Nellie Norton), Anthony Hawken?, Tony Seymour, John Marsh, Alex Blake, NK, NK, NK
3rd row: Colin Harvey, Leonard Smith, Ian (Mac) McNulty, Trevor Corless, Leslie Abbatt, Brian Perry, Colin Greenfield, John Kippen, Barry Aves, Robert (Bob) Craske.
2nd row: Michael Hornigold, Brian Nunn, Christopher Pooley, 'Charlie' Parker, 'Nellie' Norton, Miss Easter, Trevor Tolliday, Patrick (Paddy) Spruce, Geoffrey Dyer, Peter (Pierre) Dubock, Edgar Riches
Front row: Christopher Leach, Michael Hammond, Barrie Corless, Geoffrey Wright?, Blane Wilkinson, David Bennett (from Hunstanton?), John Metcalfe, Hughie Bardwell or Bruce Ballantyne, Andrew Kapherr
This second photo appears to have been taken minutes (if not seconds) before or after the one above, but Craske and Aves have disappeared from the right-hand side.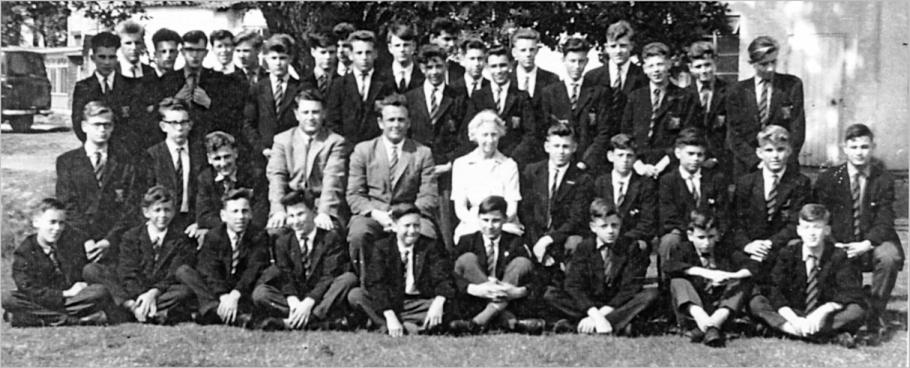 Contents

The Gallery

Houses - 1960s

North/South Annexe (1961)