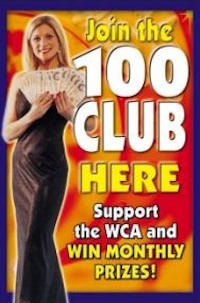 100 Club

The August Old Wymondhamians 100 Club draw was carried out at the excellent 1960's reunion organised by Mike Comber and Mike Thorne. It was held at the college on 24th August and the draw was kindly carried out by Adrian Dubock.

This month's winners were:-

Esme Wyatt [nee McNulty] - resident of Cumnor, Oxford

&

Jennie Foster [nee Clarke] - resident of North Wootton, King's Lynn

Apologies for the errors with the addresses given in the July report! Roger Hubbard lives in Sywell, Northamptonshire not Dunholme, Lincolnshire and June Spear now lives in Madison, Florida.

John Mewse [OW Chair] kindly conducted a tour of the campus including the chapel, the sports complex, the "park", Fry Hall [how did we squeeze 8 into the 8 dorm as it looks crowded with 5 beds now!] and the Lincoln Sixth form building. The BBQ was provided by the college catering staff and we were able to sit outside to enjoy it.

The total number of attendees at the tour and BBQ was around 45 and included the following:

David Batchelor, Susan Batchelor, Steven Bishop, Peter Blackwell,Tony Bradstreet, Michael Brand, Anne Brand, Gwenda Burgin, Alison Catley, Mike Comber, Martina Comber, Alan Corrigan,Tony Cronin, Clive Crouch , Barbara Crouch, Dave Culy, Ligia Culy, Adrian Dubock, Brian Ellis, Liz Everett, Tim Fitt, Jennifer Foster, Don Fulcher, Heather Gill, Richard Hines, Jennifer Hines, Sandra Howard, Linda Hudson, Dave Johnson, Clive Lancaster, Judy Lancaster, Peter Lynn, Chris Parnham, Hugh Poths, Shirley Poths, Steve Read, Marion Reed, Phil Robinson, Nick Rowe, Pat Sparks, Mervyn Taylor, Mike Thorne, Susan Thorne, Gil Turner, Philip Wade, Mary Wilson, Nigel Wilson, Barry Wood

I'm sure that I have missed out a few people, so apologies for that. A few photos from the day can be seen here.

The September 2018 OW 100 Club draw will be held at The Adam & Eve in Bishopsgate, Norwich on Wednesday 26th September 2018 at 8pm.

Hope to see some of you there.

Best Regards,
Phil Robinson
OW 100 Club administrator - Philrobinson55@btinternet.com




September Update

Sad News

We have heard the sad news that Mike Poulton passed away on 9th August. Peter Woodrow has sent in the following tribute:
"Mike came to Wymondham College in 1969 to replace Norman Croudace as Head of Mathematics, Norman having moved on to be County Mathematics adviser. He was Head of Mathematics from September 1969 until retirement in July 1996. He was also a 6th form tutor in Lincoln, a keen badminton player, a keen golfer and cricketer. He also organised Chess competitions at the College. Professionally he was also a senior examiner for A Level Statistics and International GCSE. He used to arrange his half day to coincide with the half day of lots of his colleagues - Andy Seeley, David Mills, Melvyn Taylor, Bob Mullenger et .al. so that they could spend Wednesday afternoons on a course - a golf course! He had four children who all passed through the college - Helen, Hazel, Jane and Richard. On retirement he and his wife Margaret travelled widely in England with their caravan and also travelled to the States, Canada and Australia - whenever we bumped into him and his late wife Margaret we always heard news of their latest trip and Margaret's key phrase was ….'we are spending the kids inheritance'. They certainly enjoyed their retirement until Margaret's passing in 2011. In retirement Mike was for a time treasurer for Wymondham Heritage Museum, a keen photographer and more recently had been involved with U3A. Mike coped well with his illness and responded well to experimental drug therapy until a few weeks ago when he knew that his days were limited."
He can be seen in a photo from Founders Day in 2007 in the accompaniment of Steve Read, Roger and Brenda Garrard. For some reason he was also known as Harry but we're not sure why!

Sixties Bunch Christmas Drinks - 6th December 2018

Yes, it's time to start planning for Christmas!!!
A note from Philip Wade: 'Xmas Drinks this year will be from 12noon on Thursday 6th December at the Queen of Iceni pub, Norwich. The pub is by the Riverside, approximately 200m from the Railway Station towards Carrow Road. Everyone welcome'
For previous updates please click here.