Fry Folk c1975
with narrative by Colin Leaford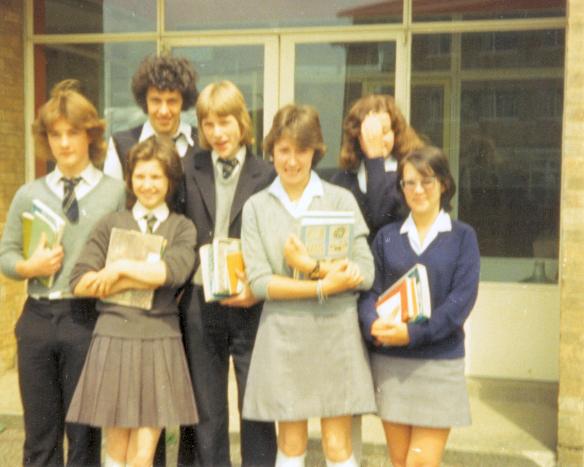 From L to R: John Wright-Nooth wearing the grey jumper that he had owned since the first year in 1970. I wish I could find him, his sister Susan has an entry on FriendsReunited, but the e-mail link doesn't work! Familiar but nameless day girl sporting the grey pleated school skirt (high maintenance apparently, but preferable in my opinion). Steve (Sid) Bowers and Chris (Cromer) Hare. 2nd familiar but nameless day girl in light grey A-line skirt (no comparison with the pleated version). Annie Mills (Lambert) hiding in the background with hand over face. Denise Timms (Herod) looked good in either type of skirt .... it's the thighs!

Graham Wilson writes: "You need to double check, because my mind is hazy, but I am pretty sure that the girl on the left is Sharon Jessup and the one on the right is Caroline Greaves. Both Sharon and Caroline would have been at Wycol from 1970 to either 1975 or 1977 depending on whether they went on to A levels or left after their O levels." [Sue Muir confirms that it is Sharon Jessup on the left - Ed.]


This time we're in what were then known as "home clothes" & the photo was taken on the grassed area behind Fry Dining room. From L to R: Ian Cairns (slight dispute as to the identity of this chap, but it is definitely his shirt and Ian agrees that it is him), Tim Howell, Rod ('Chips') Donmell and Chris Hare; modelling that 70's wardrobe essential ... the grandad shirt.

If anyone would like to name the people in the background in front of the rust patch on the nissen hut, please do!

This was taken "down the park" on Sports Day 1977 and shows, from L to R: Me in familiar Leaford pose, Nigel Chalk, the well known Rhodesian with tree growing out of his cricket jumper behind his head, Lauren Perry (Clifton), Paul (Bugsy) Sasada and Louise Martin.
Contents

The Gallery

Just Posing

Fry Folk c1975