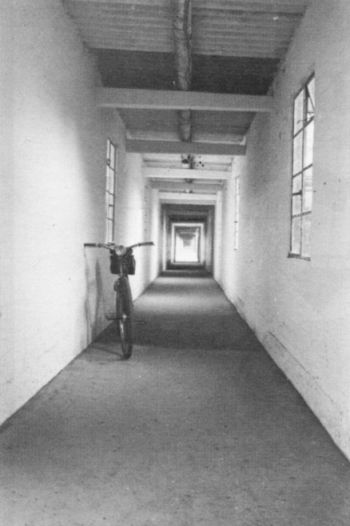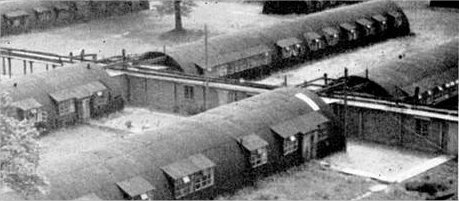 Enclosed Covered Way
The covered ways had two main enclosed sections; one in the Butler (East) area connecting huts 26-31 and one in the Tomlinson (West) area connecting huts 10-18. There was a smaller enclosed section at the back of the Main Dining Hall. The covered ways themselves (less walls) were built in 1944 "..... between the months of April and July when unit personnel, working under the direction of engineers from District VIII, Western Base Section, constructed roofing over all the paved walks between wards and connecting the wards with the patients' mess and the post theater" (extract from the 231st Station Hospital report for 1944).
The inside walls were whitewashed and juniors' jackets often bore marks where the wearers had been jostled on their way to class. The last of the covered ways that were still standing were demolished in February 1997.
When this page was created, we added "It is not known when the side walls were built; perhaps at the same time that the site was adapted to receive the students of the Emergency Training Colleges." David Spinks soon got in touch to say "I can answer the question of when the side walls were built as they were built after we arrived and I would say about 1953" and Brian Raines added: "I believe they were built in 52 or 53. It was at the time we had non-teaching staff as "House" supervisors. Pickstock, Skoyles, Frowen, a female with a black Labrador and Nicols." But then this photo turned up, showing German POWs working at the Hospital in 1945:
| | |
| --- | --- |
| | However ... the section between the hut and the covered way was still open to the Norfolk weather. Could this have been the area of work remembered by David and Brian? |
"Well ole putna, I just cannot argue with that as I am not sure. All I know is we came back one day and it was different so you may well be correct." - David Spinks
| | |
| --- | --- |
| | This photo is believed to have been taken as part of a survey to show the dilapidation of older parts of the College; perhaps in the 1990s. It's interesting to see the angled wall (right foreground) where the covered way branches into one of the huts as it is not apparent in any of the aerial photos. |
Contents

The Gallery

1960s Views

Enclosed Covered Way