Iolanthe Credits & Reviews
Transcribed from the College magazine
Contents

The Gallery

1970s Productions

Iolanthe Cast
---
Norwich Mercury Review:
It maybe is less than fair to let it out that, the very night after one had seen "lolanthe" in Wymondham College's production, one saw it again, at Norwich Theatre Royal, done by the nonpareil of Gilbert and Sullivan people, the D'Oyly Carte Opera Company no less. Well, it is an old and rather silly saying that comparisons are odious; and in this case, anyway, perfectly pointless. Everything about the D'Oyly Carte was sharp and bright, orderly and well sung; of course. And there was the almost legendary John Reed as Lord Chancellor, one of his extra-special roles. But (and making no comparisons) one so much admired in the Wymondham College production - by Mr. Roger Garrard - the lovely, fresh spontaneity, the terrific fun of it all, the really large numbers of fairies and peers and the engaging personal qualities of all the principals.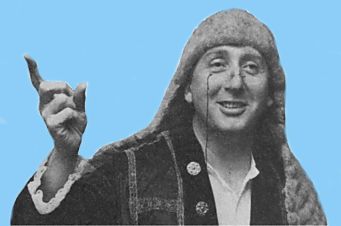 Besides which, this production had, in Mr. Michael Brand, a Chancellor of very high degree indeed; absolutely in the manner. Could he possibly have been as nippy on his pins, as animated and agile, as when he last did this for Wymondham College in the 1965 production of the piece? Despite the passing 13 years, one thinks the answer could be yes; possibly more so. Well done, Mr. Brand, sir! Well done, also, to David Cross and James Wheeldon, staff in the roles, respectively, of Earl of Mountararat and Private Willis; both good value, the former acting even to his eyebrows.
Another thing Wymondham had over the Theatre Royal was (the Friday night) a super, cheering, clapping cat-calling, yet deeply absorbed audience in that huge, echoing gymnasium. Marvellous for everyone on stage; as good, in a different way, for an efficient orchestra of some two-dozen players, under Mr. Barry McBeath. And the first act set, especially, was outstanding; with broad backcloth, green and sunny, of ideal English country. Briefly, Nicholas Smith was Earl Tolloller (likeably languid); Richard C. Martin a cheerfully artless Strephon; Lindsay Macrae the Queen of the Fairies (almost daunting, with good voice); Catherine Britton a nice, respectable lolanthe; and Susan Evans a dainty, quicksilver Phyllis.
There were, of course, any number of others involved in one way and another, on and off the stage and behind and round and about, including charming hostesses at refreshments afterwards, and the feeling gathered force on the way home that it had been a long time since one had enjoyed oneself more.
C.A.B.
---
"IOLANTHE"
or
The Peer and the Peri
THE CAST
| | |
| --- | --- |
| THE LORD CHANCELLOR | MR M. BRAND |
| EARL OF MOUNTARARAT | MR D. CROSS |
| EARLTOLLOLLER | NICHOLAS SMITH |
| PRIVATE WILLIS, of the Grenadier Guards | MR J. WHEELDON |
| STREPHON, an Arcadian Shepherd | RICHARD C. MARTIN |
| QUEEN OFTHE FAIRIES | LINDSAY MACRAE |
| IOLANTHE; a Fairy, Strephon's Mother | CATHERINE BRITTON |
| CELIA | SALLY BLAKE |
| LEILA Fairies | ALLYSON HAWKSWORTH |
| FLETA | NICOLA STREATFIELD |
| PHYLLIS; an Arcadian Shepherdess and Ward in Chancery | SUSAN EVANS |
| Train-Bearer to Lord Chancellor | ELIOT WREN |
CHORUS OF DUKES, MARQUISES, EARLS, VISCOUNTS AND BARONS:
Mr P. Coutts, Mr J. English, Mr D. Moss, Mr H. Neale, Mr M. Taylor, Mr S. Wasley, Mr J. Wheeldon, Andrew Blacker, Stuart Britton, Gary Byme, Sean Cunningham, Bruce Edmonson, Sean Fielding, John Harris, Paul Jeffery, Andrew Long, Nicholas Marston, Richard M. Martin, Wesley Paines, lan Sachs, Kevin Shippey, Andrew Smart, Andrew Spall, Michael Taylor, Michael Utting, Martin Walters.
CHORUS OF FAIRIES:
Virginia Barnes, Julie Barratt, Frances Chipperfield, Susan Courchee, Karen Fielding, Charlotte Hillier, Barbara Hunt, Caroline Hunter, Clare Johnson, Hilary Jones, Deborah Lane, Susan Lewington, Susan Lund, Sarah Page, Joanna Piesse, Susan Potter, Caroline Radford, Jane Rippon, Marigold Saunders, Fiona Scott-Norman, Jane Skittrall, Sara Slade, Karen Smith, Kay Sowerby, Veronica Stapleton, Josephine Steggles, Alison Taylor, Debra Watts, Helen Winter, Julia Woodcock.
---
THE ORCHESTRA
| | |
| --- | --- |
| VIOLIN I | CLARINET |
| Mrs E. McBeath (Leader) | Mr S. Johnson |
| Mrs J. Champeney | Miss A. Watson |
| Mr I. McGregor | BASSOON |
| VIOLIN II | Isobel Johnson |
| Mr S. Price | Augusta Spurling |
| Deborah Dowe | HORN |
| VIOLA | Mr P. Wheales |
| Mrs K. Dorling | Lucy Gabriel |
| Vivienne Morley | TRUMPET |
| 'CELLO | Mr D. Brook |
| Andrew Watson | James Witton |
| Fabia Paines | DOUBLE BASS |
| TROMBONE | Mr D. Bramhall |
| MrJ. Betts | FLUTE |
| PERCUSSION | Miss E. Harris |
| Mr A. Honeyman | Joanne Britton |
| REHEARSAL PIANIST | OBOE |
| Maria Czyrek | Rosemary Mundy |
CONDUCTED BY MR B. McBEATH
_______________________________________________________
SCENERY designed by MR D. CHEDGEY and painted by him with the assistance of a large quantity of helpers too numerous to mention.
MAKE-UP under the direction of MR D. CHEDGEY, assisted by Lyn Dobson and Sara Adams, Suzanne Askham, Fiona Bacon, Elizabeth Brand, Jayne Cox, Susan Cox, Wendy Few, Deborah Kidd, Julie Locke, Jennifer Perryman, Judith Philcox.
COSTUMES by W. A. Homburg, Ltd., Leeds
WARDROBE AND PROPERTIES: Miss P. Riggs, Mrs C. Rutherford, Miss C. Johnson, Sara Rednall, Fiona Scott-Norman
STAGE HANDS: Simon Blake, Graeme Garrett, Andrew Hopkin, Jeremy Lee, Andrew Lynn, Julian Martin, Graeme Miller, lan Thompson, Robert Watson
LIGHTING: Michael Arnott, Christopher Burman, Neil Sargent
STAGE MANAGERS: George Ross, Gillian Munn
BOX OFFICE: Mr D. Staveley, Mrs L. Hannington
SOLOISTS AND CHORUSES trained by MR B. MCBEATH, MR N. GUZAEK, MR and MRS JOHN GILBERT
CHOREOGRAPHY - MRS C. FRAZER DIRECTOR OF MUSIC-MR B. MCBEATH
PRODUCED BY MR R. GARRARD
---
ANOTHER VIEW
Wymondham College possesses a vast amount of talent in acting and singing and once again her pupils, with the help of Mr Garrard, Mr McBeath, Mr Gilbert, Mr Chedgey and many other willing members of staff, have shown that they can achieve tremendous success with their productions of Gilbert and Sullivan Operettas. This year's performance of 'lolanthe', the second time Mr Garrard has produced it, was extremely entertaining and was the principal school activity of the Autumn term.
Mr Gilbert's arrival at the College certainly improved the singing and vocal expression of the performers and this was particularly noticeable with Nicholas Smith and Lindsay Macrae. Nicholas, a fifth former, sang with great confidence and power whilst Lindsay's husky sensual voice captivated the audience. Lindsay, playing the part of the fairy Queen, gave orders with such spell-binding intonation and rhythm that at times one could almost be forgiven for forgetting that there were other performers on stage. The cast, on the whole, acted well and spoke clearly and powerfully. At times, however, the words of the songs were lost, this being principally due, when I saw it, to the problems of actors having sore throats.
The most popular scene in this year's production was, without doubt, that in which the Lord Chancellor, with Lord Mountararat and Tolloller sang 'In for a Penny, In for a Pound'. This delighted the audience, for the actors were allowed to improvise their dance movements according to their moods, resulting in some hilarious scenes. We were thus treated to the spectacle of the Lord Chancellor (alias Mr Brand) performing gymnastics exercises on the stage, Lord Mountararat (Mr Cross) disco-dancing around the floor with a wonderful sense of showmanship, and Lord Tolloller (Nicholas Smith) bravely cycling in and out of the scenery. I am sure there are many people who watched Nicholas' antics with bated breath, waiting for the moment when bicycle and actor would fall into the audience, but steely nerves and a good sense of balance averted any mishap. The other peers, too, provided us with many laughs — not least when catching their cloaks on props and dropping coronets! They looked powerful in their costumes, and in the opening chorus of 'Bow, Bow, you lower Middle Classes' were extremely effective, for they managed with great showmanship to include the audience in their accusations.
The majority of the fairies, I must admit, looked rather self-conscious on stage in their revealing, unusual costumes. This was not the case, however, with the Fairy Queen, lolanthe, nor the three other principal fairies, who looked delightful in their outfits. The daintiness of these last three fairies was a pleasure to watch as they tip-toed across the stage.
Susan Evans was excellent in her portrayal of Phyllis, the shepherd-girl enamoured by the entire House of Lords, and used her lovely voice and talent in acting to the best of her ability. Strephon, her suitor, was played by Richard Martin with great courage and enthusiasm. Susan has played a leading role in the musical life of the College for several years now, having appeared in two operettas, organised Cavell Hall's contribution for the Mair Cup on three occasions, sung with the Aldborough Festival Choir, and been a prominent member of the College choir for several years. It would be difficult to find anyone with more devotion to College Music than Sue, and she will be missed next year. All in all then, 'lolanthe' was a great success, giving enjoyment to both audience and performers. All those concerned with the production should be congratulated, and thanked, for providing us with another entertaining occasion, maintaining our tradition well.
ALISON HOLCROFT
---