(Part 2)

Contents The Gallery Productions 1970s Part 2
---
---
The Gondoliers
(7-12 December 1976)
| | | | |
| --- | --- | --- | --- |
| | | | |
| Front cover | Foreword & Acts | The Cast | Production & support |
| | | |
| --- | --- | --- |
| | | |
| Photo 4 | Photo 5 | Press Cuttings and more Photos |
If you can't remember the music, try The Gondoliers MIDI Page
It even has a karaoke facility!
---

Waiting for Godot
(17th March 1977)

There was some initial mystery over the date of this production, but help was at hand ....

"This production, in Tomlinson Hall, was in 1977 and I know that because I was in it! As Pozzo! A smaller but significant part that wandered through the lives of Vladimir and Estragon. I cant remember why we did it though I think it may have been Tim Eaton's suggestion. I do recall that an English teacher (lady, blonde hair) was overseeing the production though we got on with it mostly by ourselves."

Cliff Martin

---

Zigger Zagger
(25th March 1977)

"Zigger Zagger followed Waiting for Godot, in the next week. As far as I can remember one involved the junior drama group,
and the other the seniors. I got roped in by Nick Varnon ... probably in a case of bribery. Nick shared a flat with Mike Ronayne ... the man with the Betamax - I know we used to get them to tape programmes for us ... Dr Who springs to mind! I also recall sitting outside their flat door with a fellow inmate singing very loudly (and badly) and having loose change thrown
out of the door to make us go away ... one way to supplement our meagre pocket money allowances! Happy days!"

Liz Elfick

"Zigger Zagger - it was hell of a night. The script was rather 'loose' & consisted of many rather rude football songs/chants. We got so lost during the show that we kept reverting to another chorus of a song which brought into question the parentage of the referee. I recall that the Warden brought a VIP & was very embarrassed - I think the drama teacher got away with it by the skin of her teeth!"

Andrew Smart

---

| | | |
| --- | --- | --- |
| | | |
| Front cover | Part One | Part Two |

---

A Midsummer Night's Dream
(December 1977)

| | | |
| --- | --- | --- |
| | | |
| Front cover | Page 1 | Page 2 |

---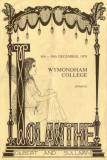 Programme front cover designed by Jennifer Botwood & Richard Scarborough
| | |
| --- | --- |
| | |
| Credits and Reviews | The Cast (most of them) |
---
Maria Marten
or 'Murder In the Red Barn'
Staged in Tomlinson Hall in the last week of Spring Term 1979
| | |
| --- | --- |
| William Corder, son of the squire of Polestead | Sally Worsley |
| Mister Marten, an honest rustic | Susan McManus |
| Ishmael Lee, an old gypsy man | Carolyn Bruce |
| Pharos Lee, his son | Martin Plackett |
| Tim Bobbin | Rudolph Spurling |
| Mark, a gypsy | Paul Harrison |
| Amos, a gypsy | Nancy McClean |
| Flatcatcher, a showman at the fair | Sallyanne Fox |
| Tobersloper, " " " " " | Martin Plackett |
| Jacko, " " " " " | Phillip Jones |
| Maria Marten, daughter to Mr Marten | Pauline Colvin |
| Dame Marten, her mother | Katrina London |
| Anne, a chambermaid, sister to Maria | Kim Hammond |
| Villagers, Gypsies, utility ladies & gents | Nicola Locke, Helen Plummer, Christine Wills |
| Stage Team | Tracey Keyes, Dawn Wright, Michael Arnott, Chris Burman, Dominic Doe, Andrew Read |
"My memory is that we just did it ourselves without any official College backing or staff involvement, although this may not be accurate."

Mike Arnott
---
| | |
| --- | --- |
| | |
| 1 | 2 |
The Man of Mode - by George Etherege

The Cast

Dorimant; Sean Cunningham
Medley; Tim Armishaw
Young Bellair; Rudolph Spurling
Old Bellair; Andrew Blacker
Sir Fopling Flutter; Michael Taylor
Handy; Douglas Ridley
A Shoemaker; Andrew Read
Reverend Smirk; Andrew Read
Footmen, Bullies, Chairmen etc; Kevin Free, David Mason, Wesley Pollard, Nicholas Pond,
Tim Prouty, Andrew Read, Kevin Shippey, Gerard Stapleton, Martin Walters, Richard Smith.
Mrs Loveit; Judith Wright
Pert; Fiona Scott-Norman
Bellinda; Caroline Newlands
Harriet; Michaela Francis
Busy; Catherine Britton
Emilia; Kim Hammond
Lady Woodvill; Susan McManus
Lady Townley; Petra Norris
Orange Woman; Kim Hammond
Sir Fopling's Dancers; Hazel Northwood, Sallyanne Fox, Fiona Scott-Norman.

Properties; Miss H. Fisher, Catherine Symonds, Kimberley Emmitt.
Costumes (W.A. Homburg Ltd); Miss P. Riggs, Mrs C. Rutherford.

Make-Up; Sara-Jane Bennington, Jayne Cox, Sue Crowe, Cathy Harding,
Sheryl Lewis, Claire Lefever, Sue Potter, Lynne Sheppeard.

Music arranged, researched and directed by Mr M.Goater and played by;
Mrs J. Tillett; Violin
Mrs A. Spurling; Recorder
Mr B. Parker; Harpsichord
Mr M. Goater; Bass Viol

Scenery made by Mr D.A. Chedgey's 7th year Core Studies group under his direction.
Lighting; Michael Arnott, Chris Burman, Paul Jeffery, Steven Reader, Tracey Keyes.

Production Secretary; Katy Hooper
Producer; Mr D.J. Spurling
Stage manager; Mr C.N. Varnon.
---
Wymondham College Remembered - Rolls neater, smokes sweeter