February Update
Sad News
John Street
It is with much sadness that we announce the passing of John Street who taught mathematics at the College from1980. When he retired through ill health in 2012 the then Principal, Mr Melvyn Roffe, stated "A previous Principal of Wymondham College wrote of Mr Street that he was "a schoolmaster of sterling worth and great integrity". In so writing my predecessor was guilty only of understatement. Mr Street has been a stalwart teacher, a good friend to many and a generous, kind and charming colleague."
Former colleague, Mr Peter Woodrow, said "John was a lovely colleague and a person we are so pleased to have called a friend. So very sad that his life has been cut short, but generations of students and colleagues should be proud that he has been part of our lives".
Some of you will also remember John as a student, he was a day pupil [CGS] in Yare. He also played an important part in the early days of setting up the Wymondham College Association, which is now the Old Wymondhamians.
Our thoughts are with his wife Sue and children Oli and Josh. Details of the funeral service are below.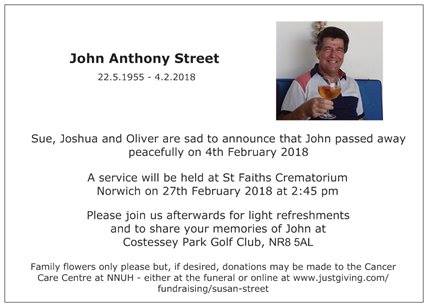 Joan Sperring (Tebbutt)
Update: Having reported last month the passing of Joan, we have today been made aware of a Memorial Service being held at the church she attended. It will be at 2pm on Wednesday 28th February at Downham Market Methodist Church.
We sadly have to report the passing of Joan Sperring, otherwise known as Miss Tebbutt, the first Head of the Grammar School. She arrived in September 1951 with the 'Thetford Transferees' and left in 1955 when the Grammar and Technical Schools were merged under Mr Metcalfe as Warden. Joan celebrated her 100th birthday last November but sadly died on 17th January, following a fall and a brief spell in hospital.

Jack Smith writes: "Several former pupils visited her during her 100th year celebrations last summer and joined her for lunch. She was full of conversation with her incredible memory for past events and of former pupils. Joan was an amazing lady who touched the lives of so many of us. She was held in high esteem by those she taught and influenced. She will be remembered fondly and with much gratitude for her impact on so many young lives.

Her step son-in-law, Roger Sperring advises that her funeral will be held on Monday, 19th February at Luton Crematorium, Hitchin Road, Luton LU2 8DD at 12 noon. We note that their web site names the crematorium as: The Vale Crematorium and adds: Butterfield Green Road, which is off Hitchin Road."
If anyone has any memories of Miss Tebbutt that they would like to share, or would like to express their appreciation, please get in touch. We will put together any thoughts received and send them to her family.
More Sad News
Another passing we have learned about is Sheila Forde, nee Fenn, who sadly died last October.
She would have been a pupil from around 1951-1958.

Sixties Bunch 2018

The intrepid Sixties Bunch are going to Edinburgh on Sunday 15th April and heading home on Saturday 21st April.
They will be staying in the new Premier Inn at 33 East Market St. Old Town, Edinburgh EH8 8FR.


College OW Database
The college are refreshing the Old Wymondhamians database and, even if you are already registered, it would be good if you could fill in the form using this link:-
http://www.wymondhamcollege.org/supportus-oldwymondhamians
.

For previous updates please click here.